For the athlete in all of us
In today's business climate everyone is looking for the competitive edge. The emphasis to win is paramount, but there is one glaring flaw….in business, every day is game day. Corporate teams are the only competitive teams in the world that do not practice. We are changing that by providing powerful team development programs that teach your team members how to think and act like the corporate athletes that burns inside.
Cultivating chemistry
At Bo Jackson's we develop teams by applying a systematic approach. Over the years we have analyzed championship teams to determine the "it factor." The right team chemistry can trump talent alone and lead to extraordinary outcomes, but it must be cultivated outside of the game…it must be practiced. We discovered that our approach applies to a wide range of teams including corporate teams – just like yours.
Team Levels
Bo Jackson's Elite Sports offers three levels to choose from for your team: Team Bonding, Team Building and Team Performance.
Level 1 – Team Bonding
Spend 3 hours utilizing all that The Dome has to offer. With 114,000 square feet under dome, you team can play kickball, dodgeball, spike ball, flag football, wiffleball, frisbee and many others. You can also choose to attack a variety of climbing elements on "The Gauntlet*."
We recommend finishing your Team Bonding event with drinks and appetizers at our partner The Rusty Bucket. Call them in advance and they will have a space ready!
Level 2 – Team Building
Looking for something a little more structured? Our 3-Hour Team Building combines the fun aspects of Team Bonding with 1 custom leadership coaching modules. You will work with our team to choose the modules that best fit your vision, goals and objectives for your team. We'll do the rest.
Level 3 – Team Performance
Team Performance is our most popular Team Building opportunity. This 5-Hour event will push your team mentally and physically. Choose 2 custom leadership coaching modules, attack "The Gauntlet" and finish your day by taking the "Leap of Faith." This will be an day your team will never forget.
Corporate Teams Booklet
For more information on the SLCA Corporate Teams options and offerings, download our booklet.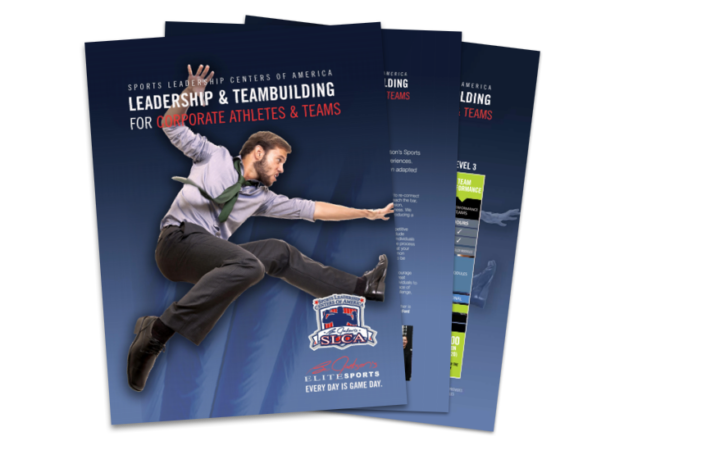 Schedule an Event
To schedule your event or ask questions please contact us. We would be happy to talk to you about the transformational experiences we provide.